Approach to the SDGs (Sustainable Development Goals) at Hotel Granvia Osaka and JR-West Hotels
Doing what we can to create a hotel that exists in harmony with society
The JR-West Group is dedicated to achieving the UN's Sustainable Development Goals (SDGs).
As part of a company that is dedicated to coexisting with the local community, we strive to adopt a thorough understanding of the SDGs (Sustainable Development Goals) to create hotels that are friendly to both people and the environment.
We are also dedicated to ensuring the fulfillment of the SDGs by transforming West Japan into an area where everyone—including future generations—can continue taking on an active role toward "the creation of a safe, comfortable society," which is also the goal of the JR-West Group.
We remain dedicated to creating a hotel that is socially and environmentally friendly by undertaking new initiatives whenever necessary.
What are the SDGs (Sustainable Development Goals)?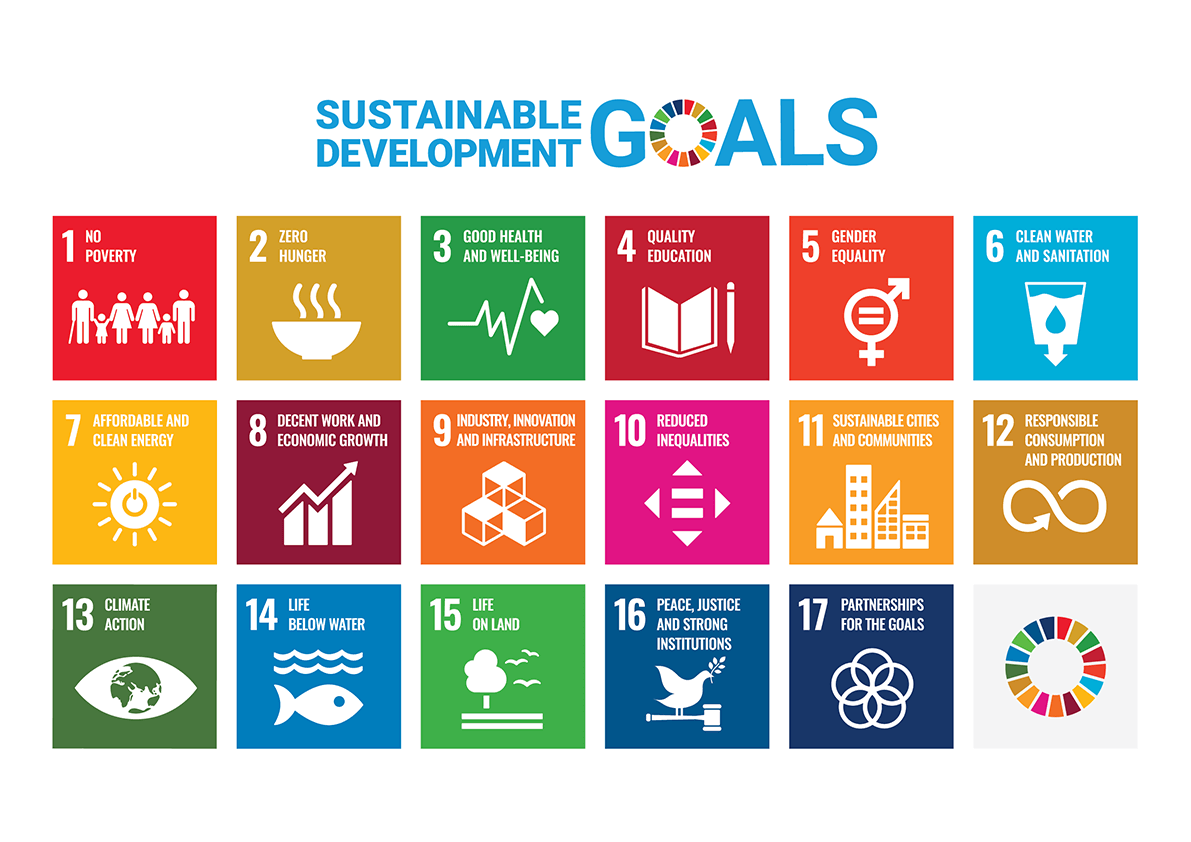 Unanimously adopted by member countries at the UN Summit in September 2015, the SDGs are international goals designed to bring about global sustainability and prosperity by 2030.
The SDGs include 17 goals and 169 targets with a global pledge to "Leave no one behind."
Specific initiatives at Hotel Granvia Osaka
Helping to prevent climate change Creating a recycling-oriented society Supporting employee efforts Working together with guests
Helping to prevent climate change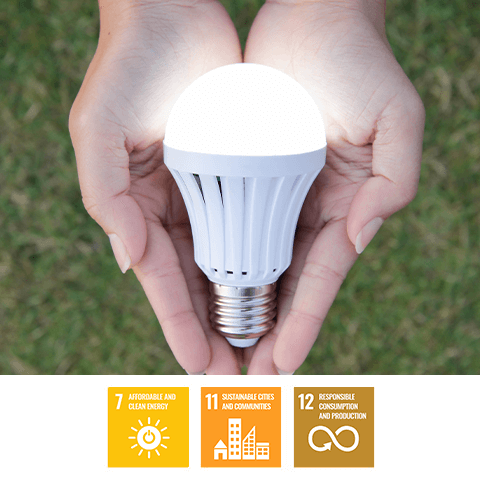 Adopting LED lighting throughout the hotel
We are adopting LED lighting throughout the establishment to help conserve energy. LEDs have lower CO2 emissions thanks to a longer lifespan and greater energy savings.* They also do not use lead or mercury found in fluorescent lamps and other lamp types, making them an environmentally friendly choice.
*Bulb-type LED lights are said to be about 85% more energy-efficient than ordinary bulbs.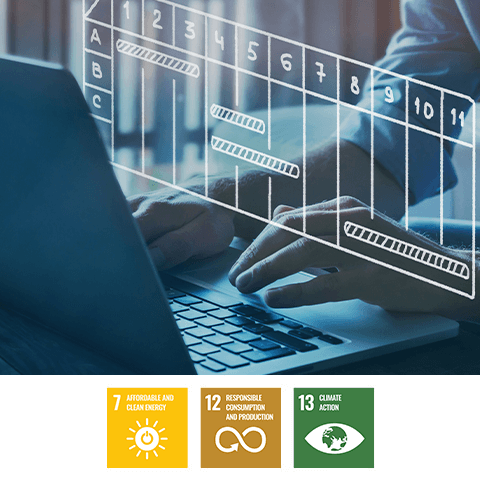 Subdividing air conditioner operation schedules
To reduce electricity consumption and curb CO2 emissions, we are subdividing the operation schedule of air conditioners and adjusting temperatures according to the season.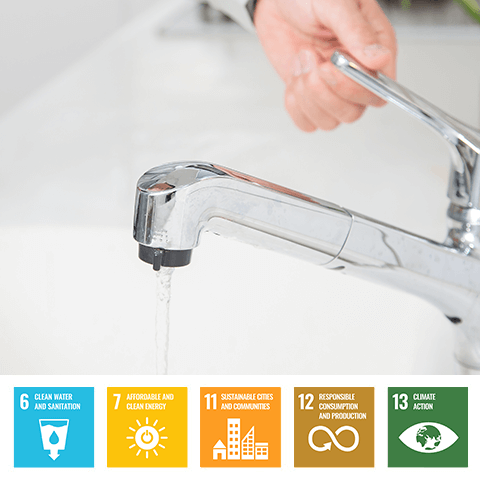 Minimizing water consumption
We have converted all guest room and employee toilets to water-saving models. We are also currently in the process of installing water-saving faucets throughout the hotel.
Creating a recycling-oriented society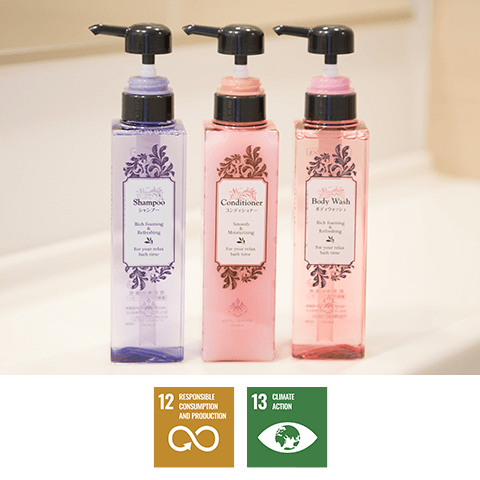 Changing dispenser bottles
We have begun using refillable dispenser bottles for bath amenities (shampoo, conditioner, and body soap) in guest rooms.
We have also reduced the number of individually packaged items we offer in an effort to further reduce plastic waste.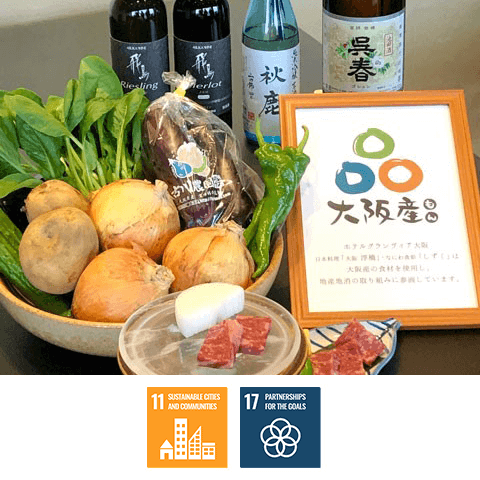 Using foods produced locally in Osaka
Both the Japanese Restaurant [Osaka Ukihashi] and Casual Japanese Restaurant [Shizuku] in the hotel are actively dedicated to using both certified Osaka-mon ingredients and other ingredients produced locally in Osaka.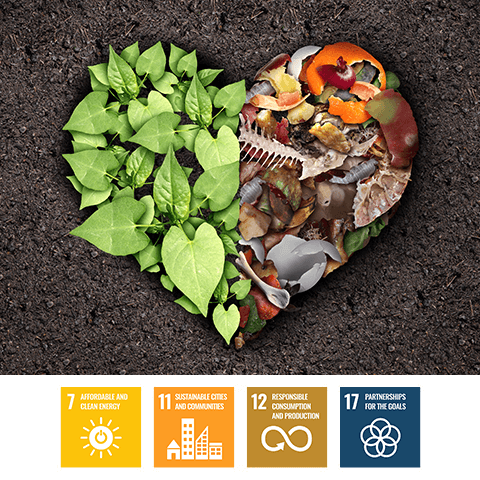 Converting food waste into feed for livestock, and
recycling waste oil into fertilizer and fuel
We send food waste generated at hotels to recycling centers to be recycled or used as livestock feed. This is just one of many initiatives aimed at minimizing food loss.
We also send waste oil generated at hotels to recycling centers to be processed into biodiesel.
Supporting employee efforts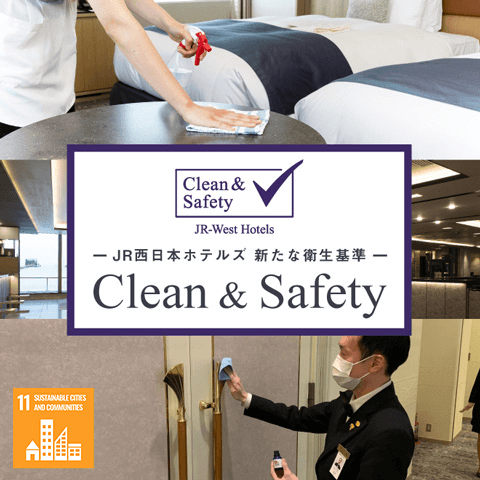 Adopting new "Clean & Safety" hygiene standards
To prioritize the health and safety of our customers and employees, we have devised new "Clean & Safety" hygiene standards.
These standards are intended to create an uncompromisingly clean and hygienic environment to create a more comfortable and worry-free stay for our guests.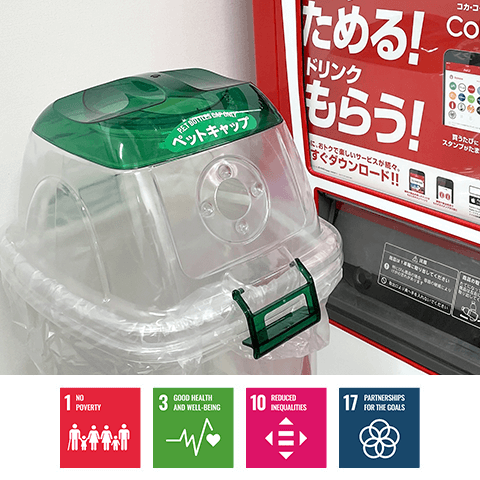 Participating in the Ecocap Movement
We encourage customers and employees to separate caps from plastic bottles for sale to recycling companies. The proceeds from bottle cap sales are then donated to polio vaccine organizations.
This allows us to make effective use of resources while also supporting developing countries.
Promoting diversity and maintaining a pleasant work environment
In addition to providing human rights training for all employees, we also promote an environment that does not discriminate on the basis of race, disability, or gender.
To cultivate a spirit of respect for human rights, the JR-West Group has established a human rights awareness promotion system that offers a deeper understanding and awareness of various human rights issues in all employees.
Working together with guests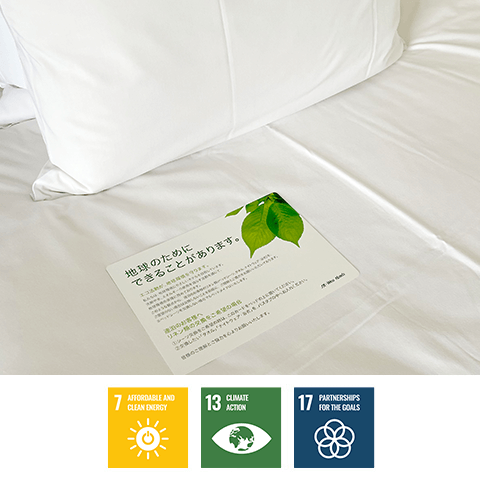 Implementing a new guest room linen replacement system
We strive to reduce the use of detergents used in cleaning linen and other consumables such as heavy oils by making it a standard practice to not replace linen for guests staying more than one night.
*Linen will only be replaced upon request.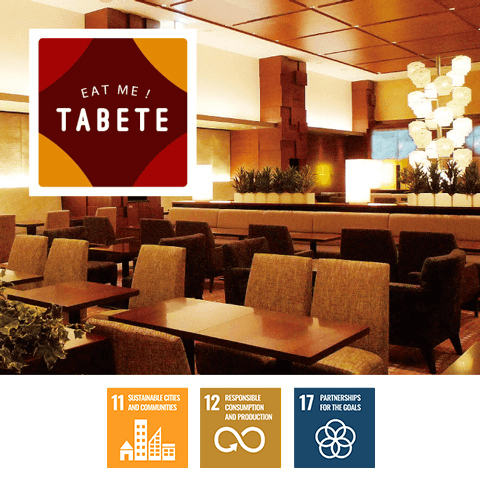 Minimizing food loss
To promote the reduction of food loss, the Tea Lounge offers the TABETE food-sharing service that allows customers to "rescue" (purchase) unsold takeout cakes that are still safe to eat.
*The TABETE app must be downloaded to use this service.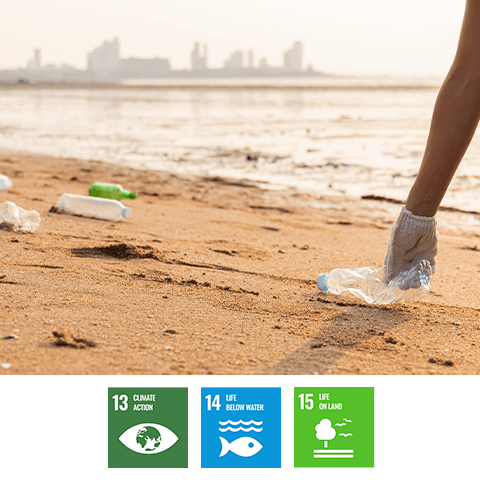 Reducing plastic waste
We are working to reduce plastic product waste to make our hotels more friendly to both people and the environment.
This includes encouraging repeated use of guest room amenities and only providing forks, spoons, and other cutlery as needed for those purchasing takeout items. We offer these services to any customers who would like to assist us in our efforts.
Approach to the SDGs (Sustainable Development Goals) at JR-West Hotels