That's Osaka
— Breakfast buffet boasting the food culture and flavors of Osaka, the Kitchen of Japan! —
Try our unique Osaka-inspired Japanese dishes for breakfast, the most important meal of the day!
Hotel Granvia Osaka's breakfast buffet offers a wide variety of dishes, including Western cuisine, Japanese cuisine, salad, and fruits.
Overview
Breakfast venue: French Restaurant Fleuve, 19F
Time: 7 am – 9:30 am (Last order 9:30 am)
Price: [Adult] 3,400 yen / [4 - 12 years old] 1,800 yen
* Listed price includes tax and 10% service charge.
* Special rate available for guests who request the breakfast buffet upon reservation.
* Restaurant hours and menu items are subject to change without notice. Please contact hotel front staff for more details.
Breakfast Highlights
Highlight 01


"Taste of Osaka" Menu

These dishes are made with unique seasonings, plant-based milk products, and other ingredients made by local Osaka businesses.
Choose from a wide variety of main dishes, dressings, and sweets.
Roast Pork with Granvia Osaka's Special Ponzu Sauce
Enjoy pork grilled low and slow with a special Osaka Daigen Miso coating for added richness.
Served with Granvia Osaka's special Ponzu soy-citrus sauce.
Kitsune Udon
Granvia's take on Kitsune Udon Noodles—an Osaka specialty—includes a slightly sweet dashi broth made from Osaka's own Ueno baked brown sugar.
Miso-simmered Beef Tendon Curry
Enjoy Osaka Miso-Simmered Beef Tendon Curry made with delicious Japanese beef tendon cooked with Ueno baked brown sugar and Daigen Miso from Osaka, and head chef Sasada's special blend of 10 carefully selected spices.
Highlight 02


Vegetarian-friendly Menu

Choose from vegetable-based dishes including vegetable consommé, omelet with nalta jute and spinach, and other dishes in this vegetarian-friendly breakfast menu.
Enjoy the simple flavors of vegetables with a wide selection of vinegars and oils.
Choose trusted favorites or experiment with new variations!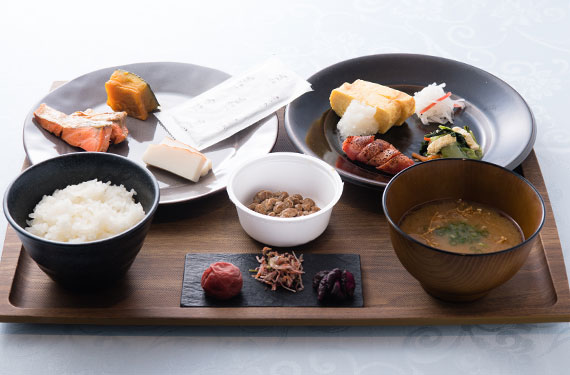 Highlight 03


Delicious Daily Japanese-Style Dishes

Savor the subtle flavors of a typical Japanese-style breakfast with rolled omelet made with soup stock, grilled fish, and various other daily dishes including white rice, healthy 16-grain rice, and ochazuke (rice in tea).
Highlight 04


Fluffy Omelets Made Fresh

Watch as the chef prepares your omelet fresh, and enjoy the inherent deliciousness of egg. Each omelet is prepared using Hotel Granvia Osaka's special technique right before your eyes in the buffet's open kitchen.
Highlight 05


A Wide Variety of Breads and Fun-for-Everyone Waffles

Choose from an extensive offering of homemade breads including baguettes, croissants, and Danish pastries.
Delicious waffles are also available with a wide selection of toppings including maple syrup, matcha green tea sauce, and fruits.
Highlight 06


Post-Breakfast In-Room Coffee Time

For guests on the go or for those looking to take a minute to relax in their rooms after breakfast, Hotel Granvia Osaka offers a take-out hot coffee service. Feel free to take a cup to-go for the day ahead.
(* Please note that guests are requested to enjoy their take-out coffee in their room.)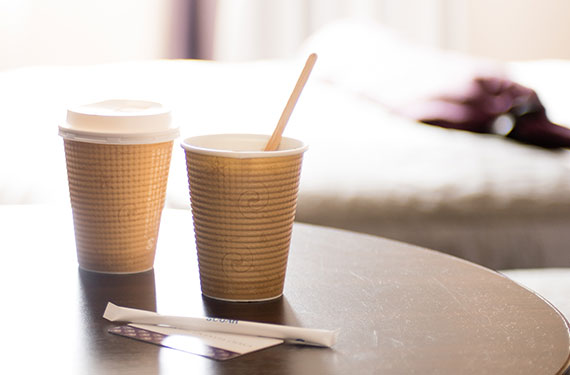 Various other dishes and drinks are also available, including the following.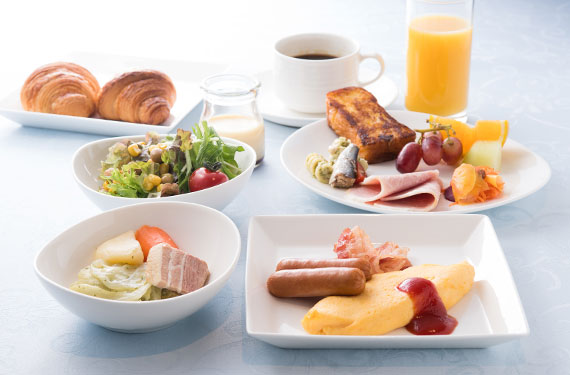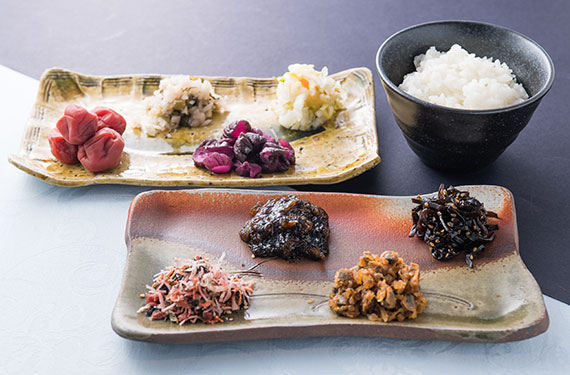 Western Cuisine
• Smoked Salmon and Onion Salad • Taramo Style Potato Salad • Red Cabbage and Apple Salad • Basil Sausages • Sausages • Shumai (Chinese Minced Pork Dumpling) • Meat and Rice Gratin • Scrambled Eggs • Warm Vegetables • Tokachi Loin Ham • Salami • Granola • Corn & Brown Rice Flakes • And more!
Japanese Cuisine
• Grilled fish • Rolled Omelet Made with Soup Stock • Natto (Fermented Soybeans) • Roasted Laver Seaweed • Japanese Style Daily Dishes (Boiled Greens in Dashi-Flavored Soy Sauce / Hijiki / Kinpira) • White Rice • 16-Grain Rice • Soup Stock to Pour Over Rice • Japanese Pickles (Salted Plum / Shibazuke Pickles / Kombu Seaweed) • And more!
Desserts & Fruit
• Waffles • French Toast Made with Brown Sugar • Almond Milk Pudding • Yogurt • Orange • Grapefruit • And more!
Drinks
• Coffee • Tea • Orange Juice • Grapefruit Juice • Milk • Tomato Juice • And more!
* The menu may be subject to minor changes depending on the season or the availability of certain ingredients.