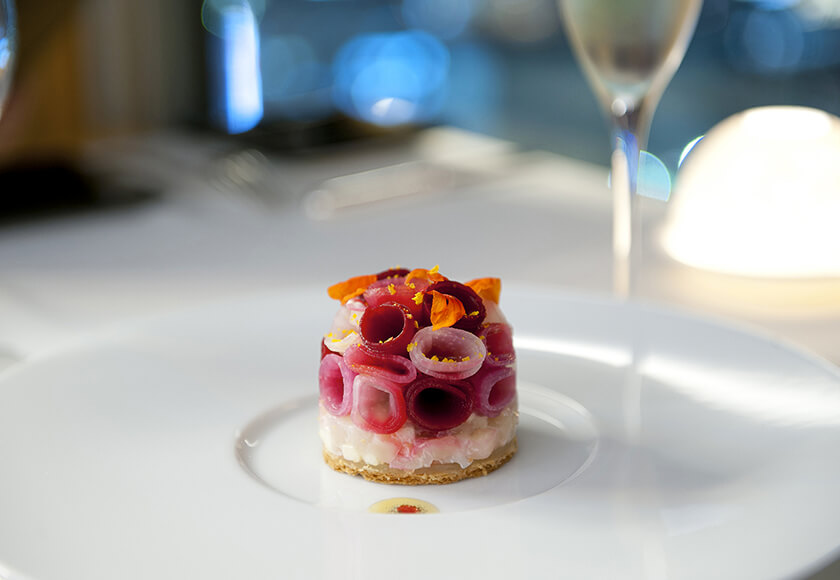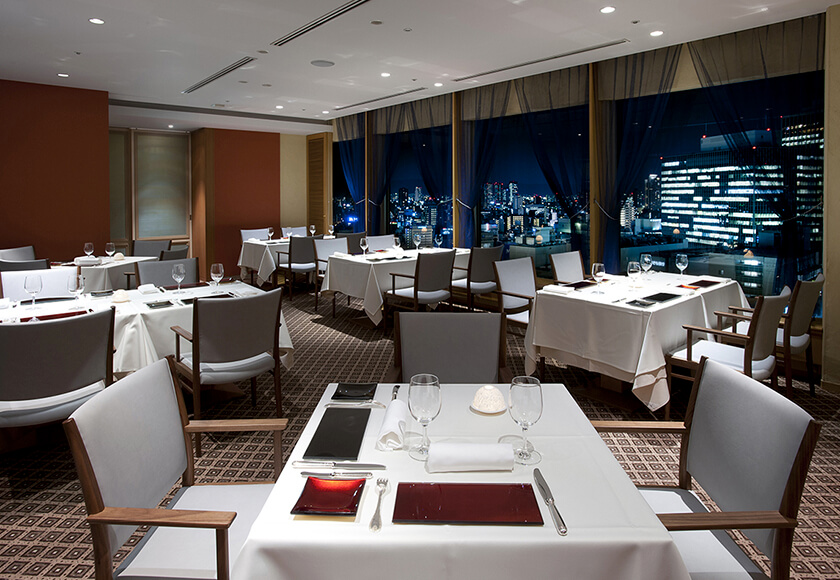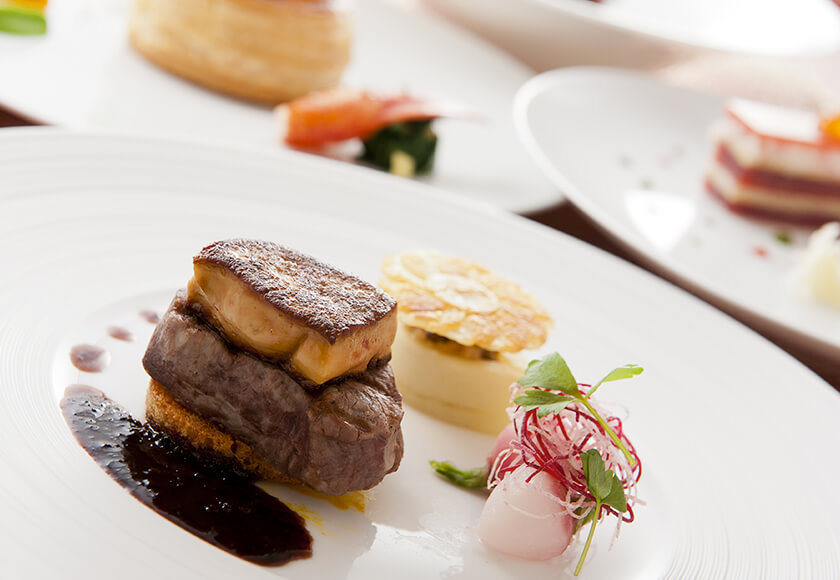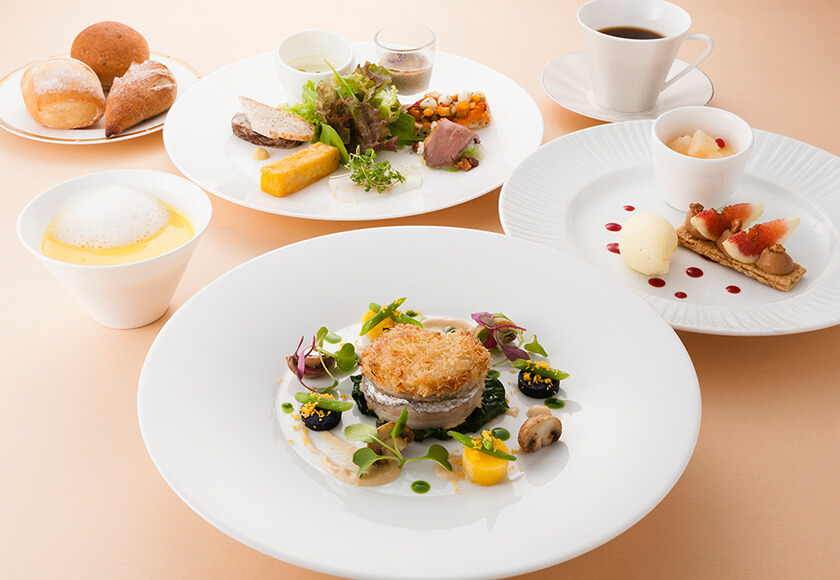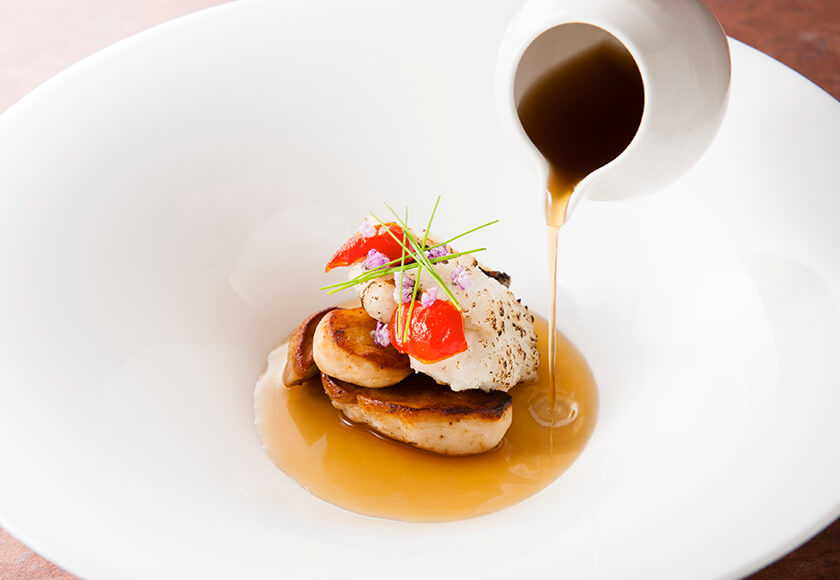 Fleuve is Hotel Granvia Osaka's signature fine dining restaurant, featuring French fusion cuisine. Headed by Executive Chef Kenichi Kashiwagi, the restaurant's variety of award-winning cuisine and vibrant atmosphere makes it a favorite among guests.
There may be changes to the menu contents and prices during the Christmas and New Year season.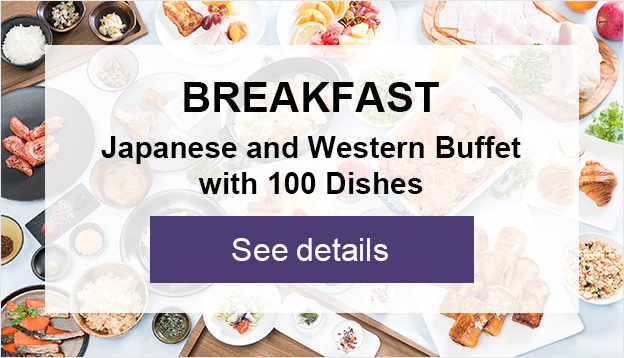 Muslim-Friendly Menu
We offer a Muslim-friendly menu. Pork and alcoholic flavoring are not used in these menu items.
* We ask that you make reservations before 12 noon four days beforehand.
* Meat (chicken and beef) that has received halal certification is used.
* We use alcohol additive-free soy sauce and other seasonings.
* All of our Muslim-friendly menu items are free of pork and alcohol, but the same food preparation areas are also used to cook and serve dishes for which this is not the case.
* Our restaurant serves alcohol. You may be seated next to another customer who is drinking alcohol.
* Our food preparation tools are stored separately so as not to mix those used to prepare Muslim-friendly menu items with others. For dishes, we use the same ones as other foods.
<Muslim-friendly Special Lunch> 3,500 JPY
Vegetable Potage
Salad Saison – Seasonal Seafood and Vegetables
Fish of the Day with Laver Seaweed Sauce
Rice
Coffee or Tea
* Halal Beef Steak is available as a substitution for the broiled fish for an additional 1,000 JPY.
<Muslim-friendly Special Dinner> 8,350 JPY
Vegetable Potage
Salad Saison – Seasonal Seafood and Vegetables
Fish of the Day with Laver Seaweed Sauce
Halal Beef Steak
Rice
Fruit & ice cream
Coffee or Tea
Information
HOURS
Breakfast is served at Fleuve
7 am - 9:30 am (Last order 9:30 am)
Lunch
Weekdays: 11:30 am - 3:30 pm (Last order 2 pm)
Saturday, Sunday and Holidays: 11 am - 3:30 pm (Last order 2:30 pm)
Dinner
Weekdays: 5:30 pm - 10 pm (Last order 8:30 pm)
Saturday, Sunday and Holidays: 5 pm - 10 pm (Last order 8:30 pm)